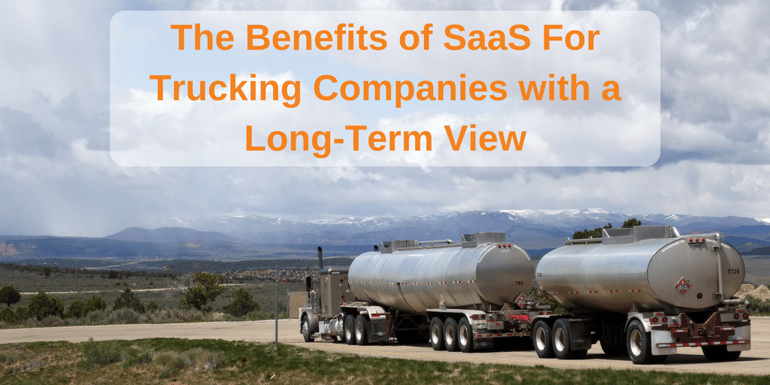 Updated November 2nd, 2018.
SaaS, or Software as a Service, is on-demand software using cloud storage. Examples of SaaS you may already use include Microsoft Office 365, Google Apps, Amazon Web Services, and Dropbox. These programs work by providing a cloud-based solution for data and software. At the same time, companies using SaaS reduces the need to install, maintain, and manage traditional software onsite.
As a result, more than 60 percent of all companies are using some aspect of SaaS. In addition, 44 percent of companies have plans to use or increase their use of SaaS in the foreseeable future. Consider these reasons why companies are choosing to adopt Software as a Service for their IT infrastructure needs.
Cost Savings from Subscription Model
As consumers in the B2C space increasingly prefer subscription models for products and services, most B2B decision-makers are fully embracing SaaS technology sold via a subscription model.
According to McKinsey's B2B software-purchase decision-maker survey, 92% of B2B buyers have already migrated or are considering migration to subscription products. There are many reasons for doing so; among the most cited are flexibility in adjusting capacity or discontinuing the subscription if it no longer meets needs, the smaller up-front investment, and a reduction in total costs. See the below graphic from the McKinsey report for a more detailed breakdown: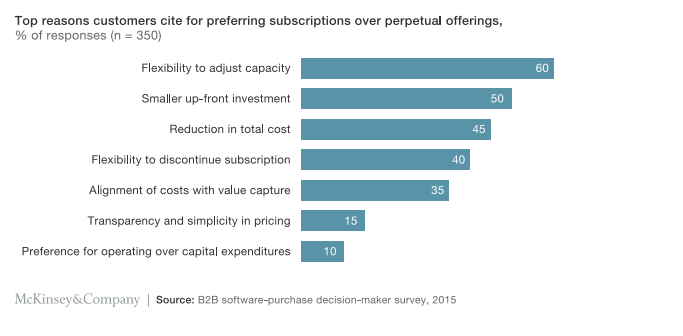 With the SaaS subscription model, companies are no longer locked into a long-term contract with their current platform. Technology is rapidly changing, so it can be extremely detrimental to your business if you're committed to using outdated technology.
Reduced IT Costs for Data
For companies using SaaS to replace in-house information technology resources, "on average, the cost reduction was more than 15 percent," as reported by Computer World. The biggest area of savings was in data center costs. Data storage, management, and analysis eats away at IT departments.
The main reason is that big data takes up so much storage on the server. By choosing to go with the cloud, companies can "devote 40 percent of their spending to new projects, compared to the 30 percent industry average" Computer World reports. In addition, having SaaS access for data also helps with saving money on upgrades, as well as in providing scalability for companies. Overall, the lifetime cost of ownership is lower than on-premise technology.
When using the cloud, upkeep for the systems is on the provider — freeing up time and resources for companies. There are numerous advantages that cloud technology has over on-premise technology which can be explored in this comparison matrix.
Explore the problems the trucking industry is facing, future trends, and the best strategies and tools to optimize your business all with The Agile Fleet Playbook.
Increased Accessibility to Information
The main feature of SaaS is internet accessibility. This type of technology is accessed by users at companies using the web. As a result, trucking companies can allow entry for their dispatchers, truck drivers, shippers, and freight managers as needs require. Take SaaS in the area of mobile logistics software, for example.
You want to grant access to a diverse group of users all in different geographic locations. SaaS permits that with security and broadband width to ensure performance at every end for each user. Everyone in your company who needs access to a particular type of software can stay in the loop — a major selling point for any trucking fleet.
This creates a mobility that has never been present in the trucking industry before — documents, data, and other records can be accessed by anyone, in any place, at any time. With this accessibility comes peace of mind that anything stored within the cloud will be automatically backed-up by the services provider and restored if an issue arises, such as user error.

Hands-Off Software Solution
For trucking companies with limited budget or experience in information technology, SaaS grants professional software capabilities without the overhead. Meaning, companies benefit from no mainframe hardware maintenance or repairs. As noted by Cloud Carib, "virtually all respectable SaaS providers include data backup and restoration as part of their services, protecting you against common user errors and natural disasters."
Your business can focus on the more important aspects of your service, which is providing transportation and logistics for shipping goods. This also brings up the cost savings point again, since your company does not have to house servers or IT departments onsite for most of your hardware needs.
Increased Growth Potential
As a company using SaaS for some aspect of your computing needs, there are certain characteristics that come along with this application. As noted by Cloud Strategies, companies utilizing SaaS are more likely to be more fast-paced and long-term oriented. Part of this occurs when using SaaS because this type of system allows your company to grow more rapidly. You are setting your business up for scalability with the increased storage and speed afforded through cloud-based software services.
More importantly, Cloud Strategies explains, "The SaaS business model is built on the value of the future recurring revenue stream, not the immediate sale." In order to benefit from this type of service, your company is already investing in the potential for expansion. This puts your company in the right mindset for being prepared for this to happen. SaaS gives you the tools and the infrastructure needed for healthy and stable growth when it does take place.
It's difficult to scale traditional on-premise technology alongside your company due to the amount of equipment and resources needed to implement the new systems. However, SaaS is able to scale seamlessly alongside your business — simply add more storage and capabilities with the click of a button.
Customer Service Opportunities
Having the ability to serve customers in the middle of scaling your company is a lifesaver in the trucking business. For example, consider what would happen if your company received an influx of new shipping customers but didn't have a mobile logistics program in place to organize and transmit new shipping route information to your team. Your company would be DOA. Using SaaS gives your company the tech support it needs to handle customer service demands.
Choosing SaaS for Trucking Businesses
If you are delaying the inevitable and avoiding an investment in IT, your company is far behind. Consider Vertrax's SmartDrops and Welltrax software solutions, or get in touch to discuss how your company can benefit from improving your trucking software.
Want to measure the potential business impact of Vertrax solutions? Our ROI Calculator can help.