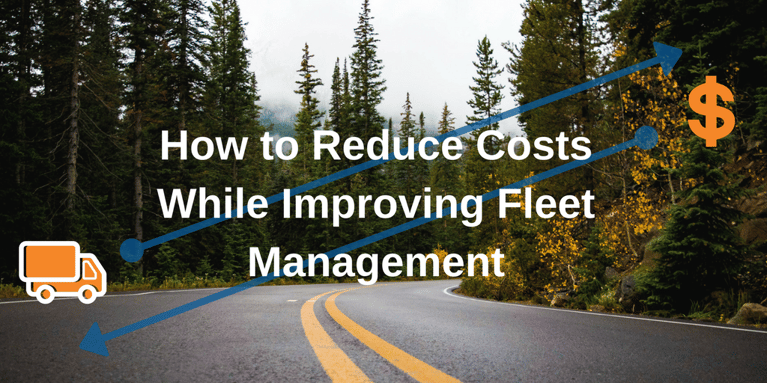 The cost of operating a trucking fleet includes everything from truck and trailer purchasing and compliance, to fuel costs and payroll. But when is the last time to evaluated those operating expenses to see where you are spending the most money? Better yet, how often do you evaluate these expenses to see if you can reduce costs? This is vital if you want to stay relevant in the current trucking environment.
Right now the trucking industry is at a turning point. Freight demand is at an all-time high with no sign of slowing down, while the industry faces a serious driver shortage. You need to be at the top of your game in understanding your own operating expenses so you can deal with the current state of the trucking industry. Here are some ways to reduce your costs while improving fleet management so your company can improve production in any market.
Lower Fuel Costs
For the operation of your trucking fleet, the biggest expense is fuel. According to the American Transportation Research Institute, diesel fuel accounts for $0.403 costs per mile. Fuel is also the largest share of operating costs, with 25 percent of fuel costs taking up the operational budget as of 2015. Note this is an improvement in recent years. In 2012, fuel expenses were 39 percent of the operating budget. Thanks to fuel-efficient technologies, fleets can reduce costs so that they are spending less on fuel. This includes the use of more efficient engines that get a higher mile per gallon, along with a move to automatic transmissions to regulate fuel use.
The reason this is so important is that fuel expenses are difficult to control. The price of diesel fluctuates constantly, which creates distress for fleet management teams. By reducing the portion of the budget spent on fuel, fleets are better able to manage their operating expenses. This is because most other expenses including truck insurance premiums, tractor-trailer payments, and permits, remain constant. Once you have your fuel costs in check, you can move to the second highest expense in operations—driver costs.
Diesel prices look to be on the rise -- see other industry trends, problems, and the strategies and tools to solve them in The Agile Fleet Playbook.
Improve Driver Retention
A constant issue among trucking companies is the ability to retain truck drivers. There are several reasons why driver turnover is so rampant. In the "Truck Driver Shortage Analysis" published in 2015 by the American Trucking Association, the biggest issues of the industry include:
Lack of quality drivers who are suitable for hiring by fleets

The average age of truck drivers is 49, and this age group is entering retirement and leaving the industry

An increased volume of freight
This is a perfect storm that requires fleets to find ways to retain the drivers they currently have in order to remain viable. By identifying ways to improve driver retention, you can reduce turnover. Whenever you have to recruit, hire, and train drivers for a trucking company, it costs money. Your fleet is also faced with a loss of community due to this swinging door situation. Your drivers are unable to connect and build a professional relationship with other truckers on your fleet. This leads to lack of communication and confidence in your company. So what can you do?
Companies are improving driver retention by offering substantial bonuses and benefits to drivers. These include sign-on bonuses, increased driver pay, full health care options, and paid vacation. The goal is to offer bonuses and benefits that improve driver retention without cutting into your ROI.
Perform an analysis regarding how much it will cost your company to hire new drivers, including training and orientation. Then calculate how much you can save by offering bonuses and benefits in order to keep qualified drivers with your company.
Understand Latest Regulations
The trucking industry is regulated federally via the Federal Motor Carrier Safety Administration and the Department of Transportation. Additionally, you may have other regulations at the state level, keeping in mind that the state DOTs are required to match the federal DOT. For example, with the latest rule regarding electronic logbooks, state DOT offices must update local regulations to be equivalent to the federal DOT. One way to make sure you are compliant with your trucking fleet is to check the FMCSA and state DOT websites for news bulletins regarding trucking regulations. By being compliant you avoid costly fines and travel delays during DOT inspections.
Ready to embrace e-logging? We're a Geotab authorized reseller.
Utilize Big Data
A final solution for reducing costs so you can optimize your fleet is by accessing big data for your drivers, freight loads, and total operations. Big data includes every single detail about your company, from the price of fuel at every minute of the day to how many seconds it takes for your drivers to get unloaded at delivery points. This data is key to finding those operational areas that are costing you money. The issue here is how to analyze this big data efficiently.
For most trucking fleets this involves choosing a type of mobile logistics software for managing your fleet. With a viable form of fleet software, you can manage your loads, get asset tracking, choose electronic ticketing, and review reports about all of your fleet data. This gives you the information you need to reflect on your costs for fuel, drivers, and compliance. With this data, you can make smarter decisions on how to cut costs while improving fleet management.
See how Thompson Gas used SmartDrops and big data to deliver 17% more gallons while traveling 70k fewer miles.
Importance of Fleet Management
Your trucking company revolves around the abilities of your fleet. If your trucks and drivers are costing you too much money, then this eats into your bottom line and can leave you bankrupt. Fortunately, there are a number of variables that you can work with to improve your fleet's ability to make money. Start by gathering your data using fleet management software so that you have everything you need for running reports and making real-time analyses. Your fleet management team will be fully equipped to cut costs and improve productivity in any market.
If you're looking for a fleet management solution that helps you make the most of your budget, please contact us and we'll assist you in exploring your options.