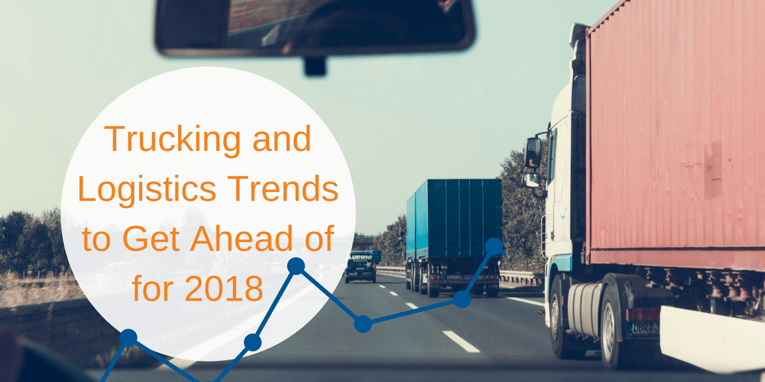 As leaders in the trucking industry, we're plugged into any signs of coming trends and changes in logistics and transportation. Knowing what's ahead gives you the ability to proactively handle how these trends will relate to your trucking business. The trucking industry is constantly evolving, but this is happening even more rapidly with the onset of trucking technology. Here are a few of the trends in trucking technologies that are going to affect your trucking business in some way this 2018.
E-Logs Go Mainstream in Trucking
The first form of technology facing the trucking industry for 2018 is the regulation requiring e-logs. Electronic logbooks will be mandated for all commercial drivers on December 18, 2017, as ruled by the Federal Motor Carrier Safety Administration (FMCSA). Trucking companies of all sizes, including owner-operators and independent contractors, have already been transitioning to the use of this new logbook system. The way e-logs work is by tracking commercial vehicles at every mile while noting if the truck is in operation or off-duty. These records will replace the antiquated paper log system for recording hours of service, which determine when and for how long a driver can be on-duty each working day.
The main reason for e-logs is to provide truckers with safety by ensuring they receive adequate rest and off-duty time. With paper logbooks, drivers could cheat on their hours of service by simply removing a page from the logbook and rewriting it to reflect false driving times and mileage. Now, these drivers will be forced to follow hours of service rules, which ensure that they receive adequate time for resting and off-duty hours.
Ready to embrace e-logging? We're a Geotab authorized reseller.
Better Technology to Improve Fuel Economy
All trucking companies want to improve their fuel economy. According to "An Analysis of the Operational Costs of Trucking: 2016 Update" by the American Transportation Research Institute, fuel costs are consistently the largest operational expense for trucking companies. From 2008 to 2015 fuel expenses were a median percentage of 34 percent of total operational costs. In 2012 fuel costs hit a high mark at 39 percent, but by 2015 these costs have dropped to 25 percent. How did this happen when freight hauling has continued to increase in demand?
Fuel costs have declined, but more impressively, technology for improving fuel economy has taken an upswing. Some of the improvement is due to trucking companies choosing to get on board with the SmartWay program by the Environmental Protection Agency. By being a partner with SmartWay, trucking companies are gaining valuable insight into fuel use through tracking and monitoring, as well as EPA-verified retrofits for clean diesel technologies.
Hundreds of trucking companies are SmartWay partners, such as XPO Logistics, Werner Enterprises, and Averitt Express. Expect to see more trucking companies opt to use technology to drive fuel efficiency, as well as for reducing carbon and diesel emissions, in 2018. In addition to saving these companies money on the largest operational expense, this move also benefits sustainability and the environment. Also, expect to see new technologies including electric drivetrains move into the semi truck sector.
Automatic Transmissions Become the New Standard
Along the lines of fuel economy technologies, we are seeing more trucking companies switch over to automatic transmissions. Paccar recently released its newest automated transmission, which is a 12-speed automatic weighing over 100 pounds less than previous AMTs. This helps increase fuel economy, but there is another big reason for going automatic.
Paccar VP Mike Dozier predicts that automatic transmissions in semis including Peterbilts and Paccar will be in 90 percent of all new makes and models by 2020. In 2016 there were automatic transmissions in only 30 percent of new trucks. What's the biggest driver for this change? Manual transmissions are not as commonplace in the general public as they were a couple of decades ago. As a result, student drivers and those now entering the trucking industry are not adapting well to a standard transmission with all of its gears.
The trucking industry needs more qualified truck drivers to fill the seats left empty by retiring drivers. By using automated transmissions, trucking companies are making their trucks lighter and more fuel efficient, while easing driver difficulty. However, there is a cultural backlash here from experienced truck drivers who have a preference for manual transmissions.
Either way, in 2018 we will see other trucking companies transition to the standard of automatic transmissions, and fuel economy should continue to improve as a result of this. How will this alter trucking culture, and will this encourage new drivers to stick with the industry for the long haul?
Trucking Industry Evolves with Technology
The trucking industry is currently on the cusp of major tech evolution. Just a decade ago, truck drivers and logistics managers depended on fax machines, payphones, and paper log books and maps for communication. Now those in the trucking industry would be left to the wayside if they were without smartphones, laptops, email addresses, electronic platforms, and GPS systems. In fact, the role of technology is increasing efficiencies in everything from fuel economy to communication.
Trucking company owners, logistics teams, dispatchers, and truck drivers have rapidly absorbed these technologies as part of the new trucking culture. This is a clear indicator that the trucking industry needs and wants these technologies. In 2018 we will definitely see more new technologies and upgraded tech be introduced in the industry, so be on the lookout for more trends to come.
---
Did learning about what's to come in 2018 spark your interest? Discover what Vertrax can do for your company with our 45 day free trial.