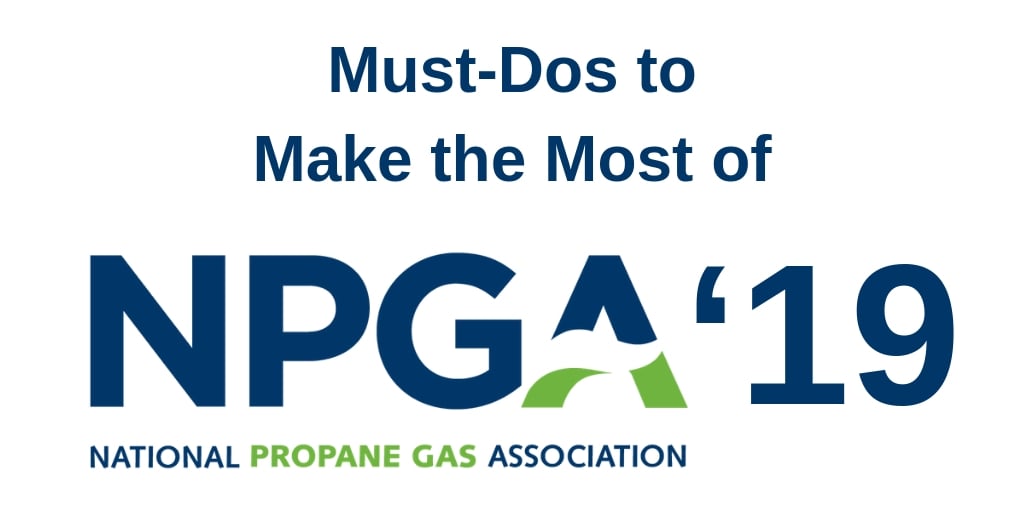 The NPGA Southeastern Convention and International Propane Expo brings together more than 3,000 marketers and suppliers from across the United States and other countries — making it the industry's largest event. Each year, the event grows bigger and brings together the best and brightest from all over the world.
This year is no different, so we thought that we'd highlight some of the key areas and learning opportunities to check out.
Visit Booth #1239
We'll be at booth #1239, so of course, we had to promote our own booth. We're particularly thrilled to be attending NPGA this year because of the exciting announcements we'll be making surrounding updates to current products, along with industry-changing new ones.
Come by our booth to hear more about it, or schedule a meeting at during NPGA here.
Expo Hall
Obviously, the expo hall is the main attraction of NPGA. Exhibitors show off the latest and greatest products and services, and you get a glimpse into the future of propane. You can find some exciting developments here, and Vertrax will be one of them as we mentioned above. Plus, it's great to get all of the swag from companies!
To see what companies will be exhibiting, you can view the floorplan here.
Keynote Speaker
This year's keynote speech will be delivered by Jose Rene "J.R." Martinez. Martinez is a retired U.S. Army soldier, author, motivational speaker, and actor. Below is his bio provided to NPGA.
"In March of 2003, Martinez was deployed to Iraq. In April he sustained severe burns to over 34 percent of his body when his humvee hit a roadside bomb. Since his recovery, Martinez has since become a highly sought-after motivational speaker. He has traveled around the country speaking about his experiences to corporations, veterans groups, schools, and other organizations.
Martinez began his acting career on the Emmy award-winning daytime drama All My Children. Since then he's appeared on numerous television shows. Many remember him best as the season 13 champion on Dancing with the Stars. He is the author of the New York Times bestseller "Full of Heart: My Story of Survival, Strength, and Spirit." Martinez serves as a spokesperson for Operation Finally Home, as well as for the Phoenix Society for Burn Survivors, and Glasswing International."
Learning Opportunities
While attending NPGA, there are numerous opportunities to attend sessions and workshops to learn the latest news and strategies in the world of propane. There are too many great ones to choose from, so we highlighted a few sessions that stood out to us. The full schedule of sessions can be found here.
2019 Propane Market Outlook: Markets in Flux - Saturday, April 13 at 9:00 am In Room 311
Mike Sloan of ICF will discuss the trends he sees affecting the propane industry in the next five years, including the propane inventory outlook, risk factors in terms of both environmental and regulatory, expected propane market changes, and much more. Sloan will also cover key growth opportunities for propane retailers — you won't want to miss this great session.
Benchmarking Panel Discussion - Saturday, April 13 at 10:30 am In Room 302
An all-star panel of propane marketers on NPGA's Benchmarking Council will gather to discuss the most valuable lessons they've learned to help improve business. Hear what has worked to grow their business and what hasn't, what they've done to effectively run their business, and what they've discovered others are doing better than them.
Preventative Maintenance for Bobtails - Sunday, April 14 at 3:15 pm
This fast track session is hosted by Jason Soulon of Westmor Industries. Soulon will discuss how to manage your preventative maintenance in order to protect your investment in your fleet's bobtails. With bobtails needing to work harder and last longer than ever before, it's essential to understand how outside elements such as salt and other chemicals corrode bobtails and how to prevent it.
Technical workshops are also offered during NPGA — the list can be found here.
---
NPGA is a fantastic event with so many opportunities to learn, network, and have a great time — so be sure to take advantage of all that's offered. While you're there, come check out booth #1239 to see the Vertrax team or better yet, schedule a time to meet with us during the event.
We'll see you at NPGA!