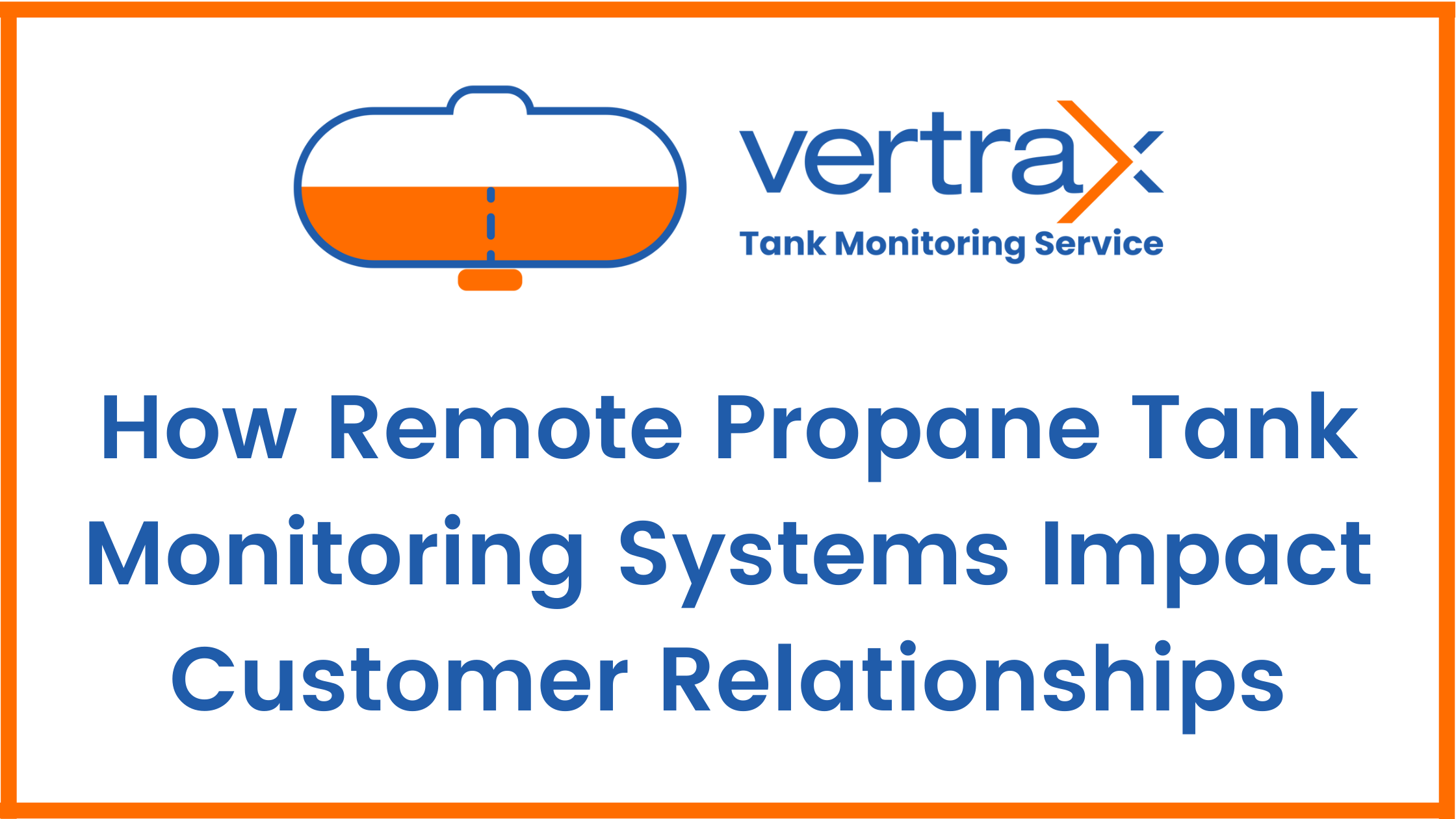 Thanks to on-demand apps like Uber and Amazon, consumers expect a whole new level of service. They're used to instantly accessing account history, customer service channels, and ordering capabilities. This demand has led savvy companies—B2C and B2B alike—to create or update their own apps, ensuring they are accessible and intuitive.
Propane businesses are no exception to the rule. Customers are increasingly pushing for more transparency and real-time updates regarding their purchased products. Remote propane tank monitoring systems enable this level of on-demand customer service.
You can expect your customer relationships to change for the better after you install remote propane tank monitors. How? Read on to find out.
Customers Will Enjoy More Efficient Service
Today's advanced remote propane tank monitoring systems provide accurate, real-time liquid level readings. These tools use sonar tank monitoring technology to provide more accurate readings than other options, like read ready gauges.
Propane businesses often invest in remote tank monitoring because it saves resources. They can know exactly how much propane each tank needs and plan refueling better. This increases the gallons drivers can deliver per stop, reducing delivery costs significantly. These efficiencies benefit customers, too.
Remote propane tank monitoring systems enable your brand to ensure that customers are never running low on propane. Consequently, they'll never have to slow down operations—or stop them altogether—because they've run out of it. They won't have to accommodate frequent propane refuels either, which can consume their resources as well.
Customers Will Rely on Your Business for Tank Safety
Cutting-edge remote propane tank monitoring systems don't just improve efficiency. They improve safety, too, which can mean the difference between life and death for some workers.
In one harrowing case, a remote propane tank monitor helped a West Coast Marketing Brand identify a faulty fixed liquid level gauge (a spitter valve) on a propane dispenser tank used for cylinder filling. This valve prevents overfilling of propane tanks, which can result in catastrophic problems for anyone in the tank's vicinity. The remote propane tank monitor played a critical part in the tests that revealed the tank was faulty.
Remote propane tank monitoring systems will help you and your customers carefully track fuel levels, ensuring that everything is working correctly. Customers will rely on your business for tank safety, using your app to ensure that the tanks are running as they should be.
Customers Will Appreciate Increased Transparency
When you use remote propane tank monitors, your customers will be able to check on their own tanks whenever they'd like.
Remote propane tank monitoring systems come with monitoring service apps. These easy-to-use tools empower your customers to check their tank levels easily, so they don't have to communicate with your team to learn their real-time tank statuses. Plus, they can quickly view their account history, place orders, and even chat with you team members through the app.
These easy-to-use apps increase your customers' transparency into both their tank performance and their relationship with your brand. Customers will appreciate having a single source of accurate information and more streamlined customer communications.
Customers Will Keep Your Business Top-of-Mind
Once your customers are introduced to your remote propane tank monitoring app, many of them will start relying on it to manage everything to do with your business. They'll use it to check on their tanks, review bills, place more orders, and contact your team with any questions.
You may be worried about your brand losing touch with customers if they start relying on your app instead of a point person on your team. But because each of your customers' portals will be branded with your business's assets, they'll become even closer with your business. Plus, they may spend more time tracking their business's propane use through the app. Since communicating with your teams will be easier, they may even talk to your team more than before.
Customers will be sure to keep your brand top-of-mind for all things propane.
Customers Will Consider You a "Customer-First" Brand
Remote propane tank monitoring systems are low-cost solutions. Even though they benefit your customers with increased efficiency, safety, and transparency, you won't have to pass extra costs on to customers. Instead, you can offer the above benefits without raising prices.
Offering improved service with no additional charges will be a pleasant surprise to your customers. As they start noticing the many benefits of your remote propane tank monitoring system, they'll be sure to wonder at the fact that it costs their brand the same to reap more benefits.
After implementing remote propane tank monitoring systems, your customers will start considering you as a "customer-first" brand. This reputation will increase customer retention, boosting your bottom line.


Ready to improve customer relationships with a remote propane tank monitor? Learn more here or learn about the pilot program today.