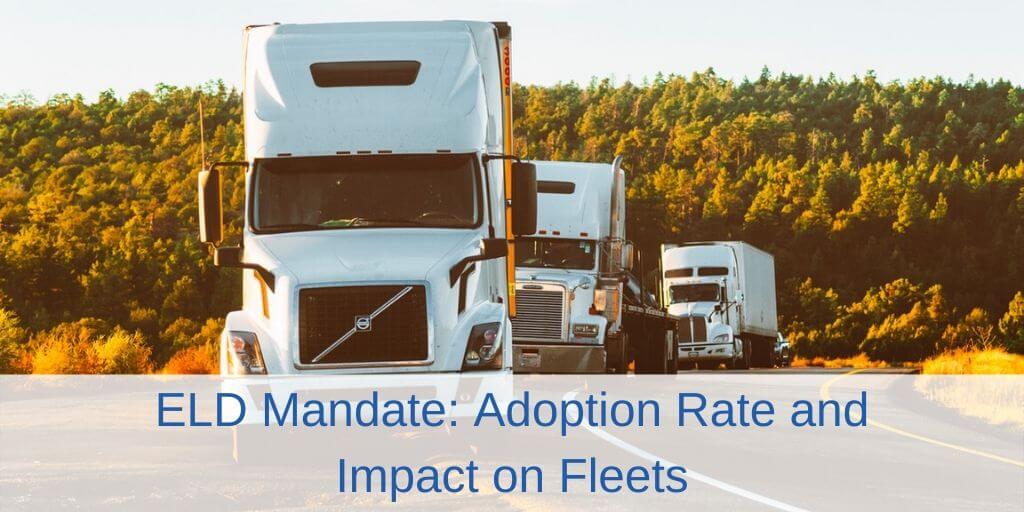 The final deadline for complying with the ELD mandate is December 16th, 2019 — less than two months away. The mandate went into effect in December of 2017 and full enforcement began in April of 2018, so this is the final phase of implementation.
The mandate has already had a major impact on the industry, so we wanted to dive into the adoption rate of the technology as the deadline approaches, as well as uncover the impact it's had on trucking fleets in terms of compliance, crashes, and driver behavior.
ELD Adoption Rate
Many carriers have hesitated on switching from using an AOBRD to an ELD is due to the issues that have arisen, but the adoption rate of the new technology seems to be increasing as the deadline draws nearer.
Freightwaves polls carriers on which type of telematics devices they are currently leveraging and shares the results. The image below represents the percentage of carriers polled that are still using AOBRDs.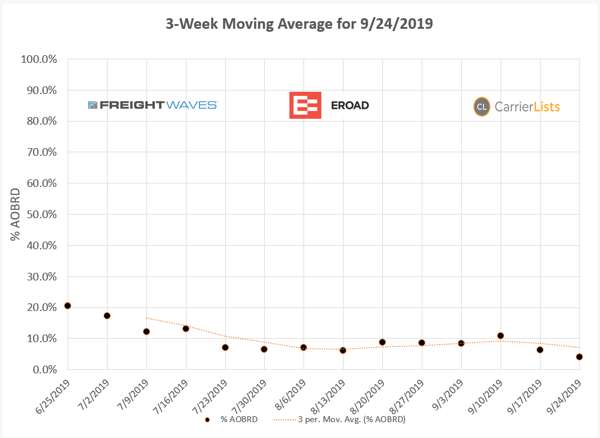 Freightwaves
The number of carriers still using AOBRDs has dropped to just 3% in this recent survey, showing the approaching deadline is pushing laggards to start finally adopting the technology.
When you dive into the differences in adoption between nationwide, super regional, and regional carriers, you can see that regional carriers have lower adoption rates of ELDs so far than larger carriers. The adoption rate by lanes/range gathered by Freightwaves can be seen below.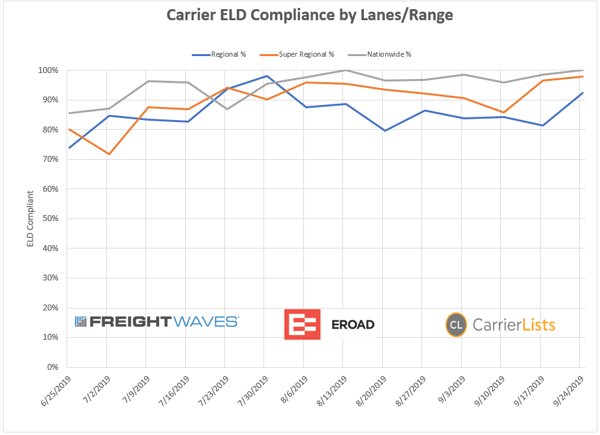 Freightwaves
According to Freightwaves, nationwide carriers are currently reporting 98 percent compliance on a three-week moving average, super-regional carriers reported 97 percent compliance, and regional carriers reported 93 percent compliance.
It's expected that adoption rates will continue to increase as we near the final ELD adoption deadline, but there will most likely be carriers that push their adoption up until or even past the deadline.
ELD Mandate's Impact So Far
With the mandate being in effect for almost two years now, we are able to see the initial impact it has had on trucking fleets so far.
A recent joint study conducted by Northeastern University, University of Arkansas, and Michigan State University on the effects of the ELD mandate yielded the following results:
Findings: Compliance
The mandate increased HOS compliance overall.
Overall, the percentage of inspections with intentional violations dropped from 6 percent before the mandate to 3.8 percent during light enforcement, a 37 percent reduction, and then to 2.9 percent during strict enforcement, a 52 percent reduction.
For owner-operators, the percentage of inspections with violations fell from 10.7 percent to 8 percent to 6 percent.
For larger carriers, the percentage of inspections with violations went from 0.85 percent to 0.89 percent to 0.75 percent.
Findings: Crashes
The mandate has had no significant effect on crash counts.
Weekly crashes prior to mandate averaged 1,717.
During the light enforcement period, weekly crashes increased to 1,912, or 11.4 percent.
During the strict enforcement period, weekly crashes dropped to 1,703, or 0.8 percent.
Findings: Driver behaviors
Owner-operators and drivers for small carriers were cited much more frequently for unsafe driving behaviors after the mandate.
During the light enforcement period, owner-operators committed 22.7 percent more unsafe driving violations.
During the strict enforcement period, owner-operators committed 35.3 percent more unsafe driving violations.
Comparatively, drivers for large carriers saw a 1.8 percent decrease in these violations during light enforcement and a 5.5 percent increase during strict enforcement.
Overall, the ELD mandate seems to have increased HOS compliance, not significantly affected the number of crashes, and has increased the frequency at which drivers are cited for unsafe driving behavior.
---
Vertrax is the leading provider of Supply Chain Management solutions within the oil and gas bulk liquid distribution supply chain. Contact us today to schedule a demo of one of our great solutions and be on your way to streamlining your operations like never before.