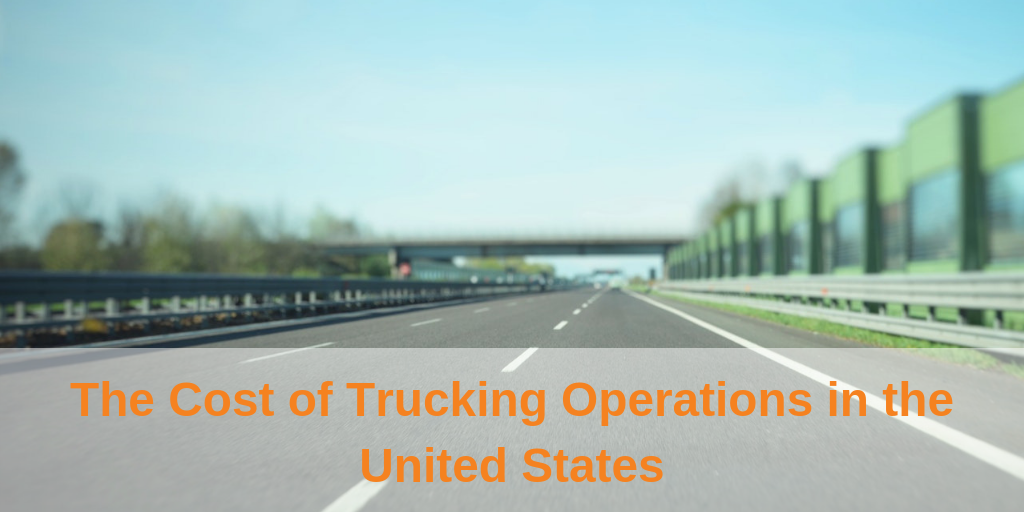 This post was updated September, 2019.
The cost of trucking has been trending up for the past decade and shows no signs of slowing down. In order to combat these changes in operating costs, you must first be aware of what these costs are, and then what solutions can help to minimize the impact they have on your bottom line.
The American Transportation Research Institute (ATRI) recently released their annual analysis of the operational costs of trucking. The average truck drives 89,804 miles per year, with an average of 20.7% of these miles being reported as "dead-head" or non-revenue miles. The total cost of trucking operations in the U.S. averages $151,859 per truck, per year — or $1.691 per mile.
Because these are such large costs, it's important to have a fleet management software in place that can account streamline and optimize business operations, improving your bottom line. Below, we break down the various factors that contribute to the total cost of trucking operations and how you can lower costs.
Fuel
Fuel prices have fluctuated over the years due to a number of factors such as the Great Recession and the emergence of U.S. shale oil. The average fuel economy of the ATRI sample came in at 6.4 MPG, a slight increase from last year's 6.3 MPG. This is expected to continue to trend upwards with the emergence of more fuel-efficient trucks. On a per mile basis, fuel costs $0.37 per mile — or 22% of operating costs.
With fuel costs being a significant operating cost, it's important to have processes and technology in place that optimizes your routes and conserves fuel.
Driver Pay & Benefits
With a growing driver shortage and increased regulations and traffic congestion, driver wages have continually increased over the years. In 2017, driver wages and benefits were ranked as the biggest cost center for motor carriers in ATRI's sample. A shortage of 50,000 qualified drivers continued to plague the industry in 2016 and has the potential to increase to 174,0000 by 2026. In terms of total operating costs, drivers are paid $0.557 per mile for wages and $0.172 per mile for benefits, resulting in 33% and 10% of operating costs, respectively.
The driver shortage has caused carriers to have to increase driver wages and benefits in order to attract more drivers. To help combat this, fleet management technology can help companies streamline operations and optimize the drivers they do have.
Repair & Maintenance
Age of a truck, the vehicle configurations used, and technologies installed can all impact a carrier's repair and maintenance costs. In addition, a number of variables such as the diesel technician shortage, intensive usage of truck-tractors, and fleet size continue to drive up R&M costs. R&M averages out to $0.167 per mile, accounting for 10% of total operating costs.
It's essential to have technology in place that optimizes routes, in turn, decreasing the wear and tear on the truck due to decreased miles.
Insurance
Commercial insurance costs for motor carriers is complex. It depends on many internal and external factors. Based on data from respondents, insurance premiums cost $0.225 per mile, making up 5% of the total cost breakdown.
Tires
Many factors such as petroleum prices and supply and demand for new trucks and trailers influence the price of tires. In terms of the overall trucking operation breakdown, tires constitute 2% with $0.038 per mile repair costs — a slight increase from last year. Similar to M&R costs, the fewer miles a truck is driven, the longer the tires will last.
Truck & Trailer Lease/Purchase
In strong economic times when there are capacity constraints, carriers tend to purchase trucks and trailers in response. The cost of trucks and trailers has steadily risen since 2013, coming in at $0.26 per mile, or 16% of total operating costs.
Permits, Licenses, & Tolls
Permits and licenses are required in trucking, so these costs can't be avoided or reduced in any way. On average, they account for only 1% of operating costs, or $0.023 per mile. In terms of tolls, the cost can vary depending on the region of operation. Costing on average $0.027 per mile, or 2% of operating costs, the most expensive region is the Northeast, with the West coming in as the least.
Fleet Management Software
Fleet management software plays an essential role in mitigating almost all of the above costs. Even if this technology can't directly affect a cost center, such as permits or licenses, quality technology will increase your bottom line which in turn offsets these expenses.
For such a small allocation of revenue -- less than 1% -- you can drive the efficiency needed to grow and scale your operation. Contact us today to see what this fleet management software looks like and how we can help you start improving your bottom line immediately.