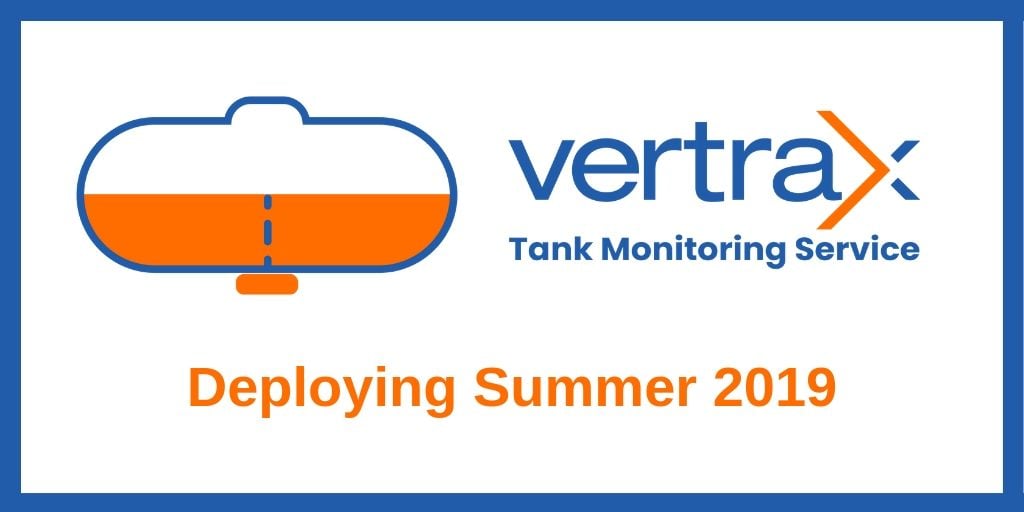 The propane industry is changing at a rapid pace, and driving that change is the generational shift in consumer demand for a smarter and easier way to live with propane. The evolution and application of new technologies are pushing the boundaries of what industry professionals thought possible — one of these technologies being remote tank monitoring.
Current tank monitoring solutions are seriously flawed, making a meaningful and scalable deployment impossible. To combat this, Vertrax is proud to officially announce Vertrax Tank Monitoring Service — the only true sonar remote tank monitoring device and service.

Vertrax Tank Monitoring Service eliminates the need for "Read Ready Gauges" and allows for a meaningful and scalable deployment for any tanks, of any age, in any condition, at any location.

The sonar technology reads the exact liquid levels of a tank rather than rough manual estimations — allowing for real-time, always accurate liquid level readings, and calculating of current rate of consumption.
To monitor the liquid levels, device installation is as simple as magnetically mounting a monitor to the underside of a tank and plugging a communications gateway into a power source. Even better, Vertrax will plan, manage, and resource the full deployment process — giving you back valuable time and resources and letting you only worry about monitoring.
Once the installation is complete, the monitor will ping the tank once every 15 minutes by sending the signal through the steel and into the tank. When this signal returns to the device, the size of the tank, measurement of the liquid height, and the total internal volume are all calculated.
This data is delivered via a LORA signal to a WiFi and cellular enabled gateway and then sent to the AWS Cloud. While in the AWS cloud, the monitor data is input into a powerful series of software applications which will calculate projected runout dates and monitor and alert data outliers that signal potential leaks and/or poor readings. Finally, this scrubbed data is delivered to businesses and consumers in a usable format. Leveraging AWS ensures that the data is always secure, reliable, and easily accessible.
With so much data collected, suppliers are able to perform predictive forecasting and make data-driven business decisions that have a significant impact on their bottom line — potentially cutting delivery costs by up to one-third and allowing organizations to right size fleets.
Vertrax Tank Monitoring Service is an entirely custom branded solution for your company. Meaning, all equipment and apps will have your company branding on them — driving loyalty and facilitating a closer business to consumer connection.
Vertrax's consumer side app will display usage and tank level, allowing orders to be placed and opening up direct communication with the supplier. Our supplier side app allows suppliers to confirm that monitors have been installed successfully and are properly reporting all data, giving them visibility into the inventory levels across their entire customer base.
When Vertrax Tank Monitoring Service is paired together with Smartdrops — the industry's most comprehensive live delivery management system — a fully streamlined operation for monitoring, dispatching, and delivering is formed.
We're extremely excited to launch Vertrax Tank Monitoring Service and feel that this will be a major step forward for the industry.
Interested in joining our pilot program? Apply here and we'll be in touch shortly!