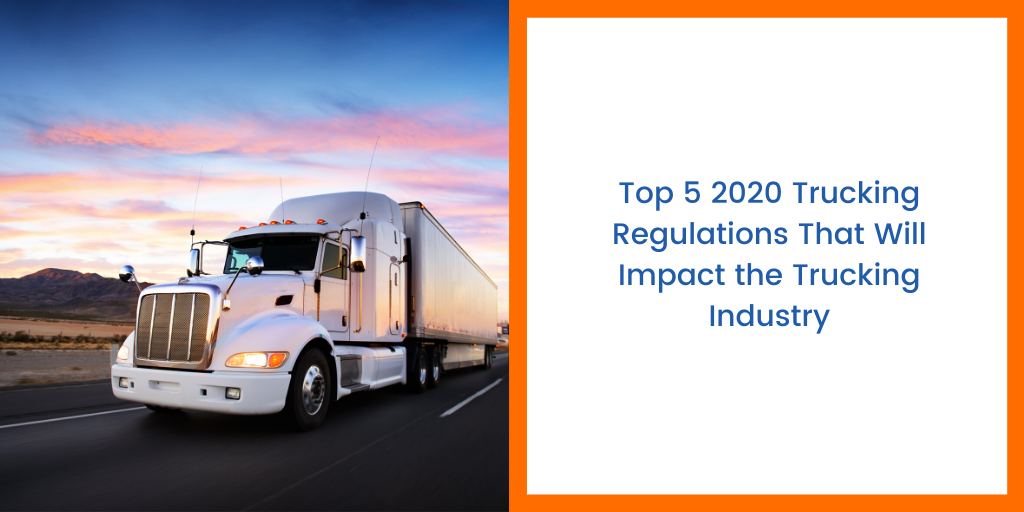 With a new year, comes new regulations. It's important to stay up-to-date in order to be in compliance and allow your organization to achieve your goals for the year.
While there are various 2020 regulations both big and small, we wanted to highlight the five that we believe will have the largest impact on the industry as a whole.
Here's a look at the top 5 most impactful trucking regulations of 2020 and how they may affect you:
1. Entry-Level Driver Training Rules
Starting February 7, 2020, the FMCSA will require individuals to obtain specific education requirements in order to:
Obtain a Commercial Driver's License (CDL);
Upgrade a CDL; or
Obtain a passenger, school bus, or hazmat endorsement.
This process will be more detailed than the prior requirements to obtain a CDL. Within this process, the individual will have to complete a "prescribed program of theory and behind-the-wheel instruction provided by a school or other entity listed on FMCSA's Training Provider Registry (TPR)." After that, drivers will then be qualified to take the CDL road test, according to JJ Keller. With this new regulation, more experienced and safe drivers should be on the road.
2. New Overtime Rules
As of January 1st, 2020, The US Department of Labor has introduced a new rule that will now allow up to 1.3 million workers to qualify for overtime pay.
So what exactly does this mean? Well, according to the Department of Labor, the standard salary level will be raised to $684 per week, which is equivalent to $35,568 per year. With this increase of standard salary along with the other new ruling of "use non-discretionary bonuses and incentive payments (including commissions) paid at least annually to satisfy up to 10% of the standard salary level", this will have a definite impact on employers' labor budget.
3. Drug and Alcohol Clearinghouse
With this new legislation that has passed in January, the new compliance with Drug and Alcohol Clearinghouse allows employers to be informed of any new potential driver that violated federal drug and alcohol rules at a previous employer. Up to this point, the potential driver was required to inform the employer themselves — something that didn't happen every time. While there were initially some glitches in the clearinghouse, the issues seem to have been fixed.
4.California's AB5 Law
Last month, the official "Californa Assembly Bill 5" went into effect. This bill specifically outlines the three main guidelines for a lease-on driver from the state of California to serve as an independent contractor for a hired trucking company. These guidelines are:
(A.) The worker must be free from control and direction of the hiring entity.
(B.) The work performed must be outside the usual course of the hiring entity's business.
(C.) The worker must be engaged in an independently established trade, occupation or business.
Now, look closer to the statement listed at letter B...This criteria makes it nearly impossible for any trucking companies to hire a lease-on driver due to them performing the main companies' entity of business - driving assets. To learn more about the Bill, check out California's Legislative Information.
5.ELD Implementation
Electronic Logging Device mandate is now in full effect as of December 16th, 2019. Carriers and drivers are required to report all certified ELDs to FMCSA. However, if you haven't made the switch, it should be one of your top priorities. Fines between $1,000 and $10,000 have been made which could immensely impact your company. To learn more about the ELD Implementation rules and guidelines check out this white paper provided by FMCSA.
Conclusion
As seen above, a large focus of 2020's regulations is on the payment and classification of drivers as well as improving safety on the road. With these coming into effect, it's essential to have your operations running at peak efficiency in order to offset the additional costs these will produce.
At Vertrax, we offer a suite of solutions that can transform your operations and dramatically improve your bottom line. Whether you need a bulk commodity trucking software solution, a mobile logistics solution for last-mile delivery propane/oil, or sonar-powered remote tank monitoring, Vertrax has the solutions for you.
Contact us today and start improving your operations tomorrow!